Wildlifekart.com is an online platform to sell products and accessories loved and purchased by Wildlife and Nature lovers. We have started this website with a main intention to make products like books, magazines, documentaries, T-shirts, jewelleries, paintings, outdoor camping equipment, stationeries, camera accessories etc available under one roof. It's very convenient for any Nature and Wildlife lover to have all these products under one single roof. Being Wildlife lover and Photographer ourselves we knows exactly what our likeminded people are looking for and what are their needs. Read More…
Main aim of our website is to bring people closer to nature and wildlife.
We are strictly against trade of living or dead animals and Illegal Wildlife trade and wildlife trafficking.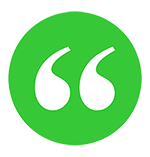 What people say about us